Stronger Together for Lasting Impact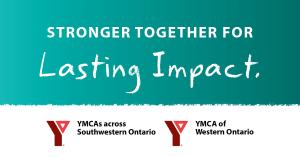 The YMCAs across Southwestern Ontario and the YMCA of Western Ontario are becoming one YMCA!
For the past year we have had the opportunity to work with the YMCAs across Southwestern Ontario and YMCA of Western Ontario. Together we have explored the possibility of unifying the two YMCAs for great impact. Throughout this project we have continually been impressed by the strength-based and optimistic approach at the Board and senior leadership levels. They have stayed focussed on what is best for communities, families, and clients as they move forward. We have been touched personally by this project and were inspired to invest, through family membership, in the YMCA organization because we believe that YMCAs strengthen our communities and improve health and well-being. Further, the YMCA's focus on equity and access for all is inspirational; we are honoured to work alongside them.

The merger of these great organizations is exciting. The Boards, CEOs and staff leadership see this unification as an opportunity to better serve their communities and they remain committed to fostering the spirit of YMCAs by staying connected to local communities.
These YMCAs are not alone in their pursuit of unification. As Andrew Lockie, CEO, YMCA of Western Ontario shared, "Across North America, YMCAs have been joining forces to achieve greater impact on the communities they serve. The decision is consistent and aligned with the YMCA Canada Strategy and vision to strengthen the overall capacity and capabilities of YMCAs across Canada. The aim is to grow and create impact in a rapidly changing community environment and philanthropic landscape. This work of strengthening regional areas by creating larger regional organizations is occurring across other sectors as well."
To learn more about this merger read this article in the London Free Press.
We are grateful to be a part of this journey with the YMCA and look forward to the next chapter with them!
"Together, we will create lasting impact in all our communities for generations to come!"