Leading in the Time of COVID 19
The Centre for Organizational Effectiveness was honoured to spend some time with over 170 seasoned, new and aspiring leaders who participated in our webinar "Leadership in the Time of COVID 19". We reflected together on the competencies of leadership that are critical in times of crisis. Leaders reflect, recharge, support, learn, direct, and communicate. The Centre is pleased to make the recording of this webinar available for all. We hope that this provides a moment of support for you in this challenging time. Thank-you to everyone that is doing their part – whatever that may be – to help our communities navigate this unprecedented crisis.
"If we remember those times and places, [and this is one of them], where people have behaved magnificently, this gives us the energy to act, and at least the possibility of sending this spinning top of the world in a different direction." (adapted, Howard Zinn)
In this webinar we invited seasoned, new, emerging, and aspiring leaders to think about leadership in these unprecedented times of COVID 19. We took time to share how things have been for everyone as well as words or mantras that they found encouraging or helpful. We examined the following competencies:
Leaders Reflect – how has this been for you, as leader?
Leaders Recharge – not a sprint a marathon – how are you re-charging?
Leaders Support – how are you supporting the caregivers? (front line staff)?
Leaders Learn – how can we capture our learnings – a few thoughts on developmental evaluation
Leaders Direct – how do you prioritize and direct through this time?
Leaders Communicate – how and what are you communicating to your staff? Simple tips to communicate in times of uncertainty and crisis
As we left the session we asked all those in attendance to reflect on our time together. This is aspiring word cloud was generated from their responses.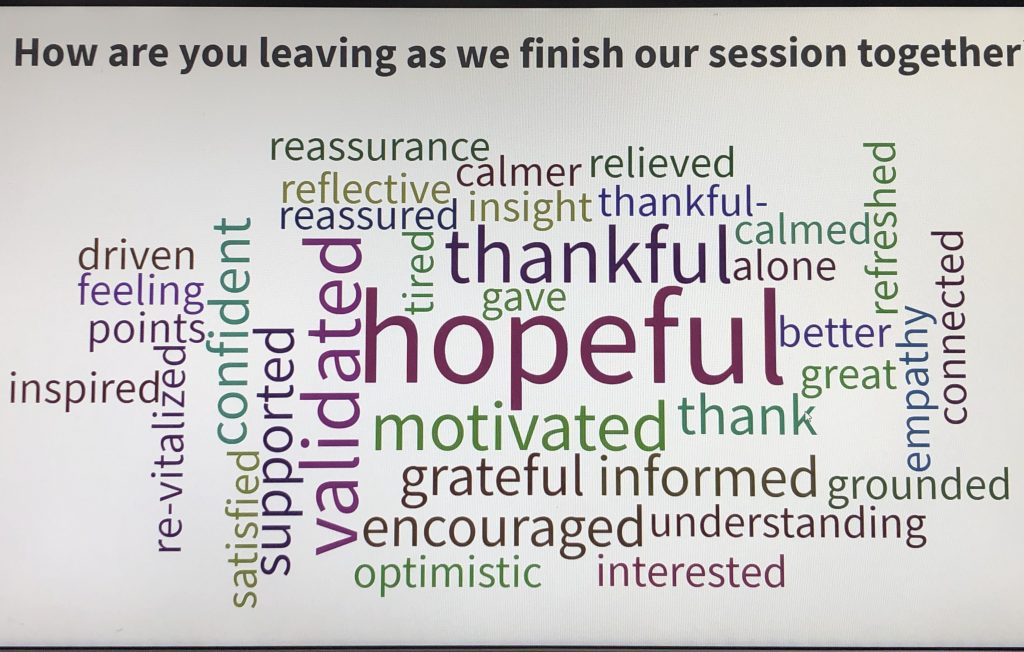 We are so thankful for the opportunity to share our wisdom and connect with so many amazing leaders. Thank you!