Spinning Something from Nothing
This post was contributed by Keri, Senior Consultant at CfOE.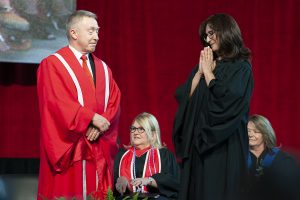 At Fanshawe College's convocation this year, there were hundreds of graduates finishing one part of their journey and embarking on the next.  For them, the renewal and blossoming of Springtime has extra meaning.  Their stories and experiences and journeys to this point in their lives have culminated in this celebration, and a marking of the next step in their life adventures.
One particular individual on the stage at this year's convocation received a very unique Diploma – an Honorary Diploma from Fanshawe College.  We are incredibly proud of Maria Sanchez-Keane for so many reasons.  She exemplifies someone that makes a "unique or outstanding impact at a local, provincial, national or global scale", and it appears that the Board of Directors of Fanshawe College agree with that assessment, as that was part of the criteria they used when they decided to present an Honorary Diploma from Fanshawe College to Maria this Spring.
In presenting Maria with this diploma, Julie Cross (Coordinator of Child and Youth Care Program, School of Community Studies, Fanshawe College), and Peter Devlin, President of the College, aptly described Maria as a "globally and community minded optimist" who has "positively impacted health, public health, child welfare, children's mental health, education, social services and community health sectors", they described the "impact of her unrelenting drive to make things better, especially for those who have it the hardest".  We couldn't agree more – and couldn't have said it better ourselves.
The theme of Maria's address is "Spinning Something from Nothing" – telling the story of her inspiration, her passion and her journey.  She invites the audience to reflect on the importance of having a clear, burning, guiding core purpose that holds firm against the winds of change that buffet us all.  She shares how important interdependence and community is.  Maria invites us all to consider the lessons she learned from her parents and family – about how to spin something from nothing.
Please find the time to listen to Maria's address (only about 7 minutes long) to the graduates and families in this full video of the ceremony(her address starts at approx. minute 33).
We are so proud of you Maria, and humbled to have the opportunity to learn and grow and make a difference with you in our work together at CfOE.