Innovation Works!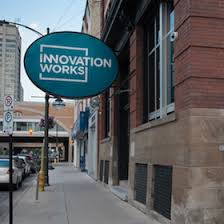 We are sometimes asked "where are your offices?". The answer is that we work all over! Our Centre is virtual, and we have associates across Ontario. Mostly, we go to our clients! We also work from our homes and we can be found at Innovation Works where we share space with some amazing people.
Innovation Works is located in downtown London. It is a 32,000 square foot space filled with light and passion and a place we go to get together, work, and meet with clients. On their website Innovation Works tell's its own story like this….
"Innovation Works was born in a living room amid a small gathering of community champions. Pillar Nonprofit Network programming, staff and resources support the space but at its heart, Innovation Works is a community-driven initiative, made by and for London."
CfOE has been with Innovation Works since the latter's inception and we really enjoy it there! We are grateful to be able to support such a dynamic, socially minded organization, and to be supported by the fabulous community there. Recently, Innovation Works published a blog post about Maria and CfOE, you can read it on their website here!