Besides In-Person, What Works Best for Conducting Focus Groups and Interviews?
By Gerda Zonruiter, Senior Research & Evaluation Consultant at CfOE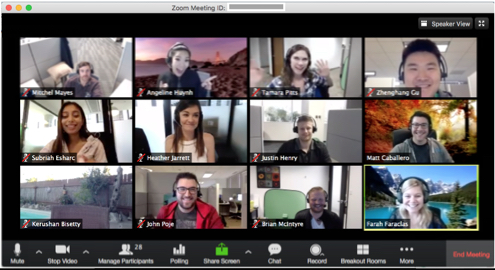 Have you ever wondered about the best way to connect with clients, staff, community partners to gather in-depth information about a service, program or the organization? In our COVID reality, when in-person is restricted, what works best for doing focus groups and conducting interviews? If you are curious, read the blog post "Can you see me now? My experiences testing different modes of qualitative data collection" by Emily Namey.
What this article is about:
This article summarizes the results of a pre-COVID research study comparing different methods of conducting interviews and focus groups. The study was funded by the Patient-Centred Outcomes Research Institute to learn about how data collected may be affected by the mode of qualitative data collection. The study compared the in-person method for conducting interviews and focus groups with 3 different online methods: video-based, chat-based, and email or message board.
After conducting 48 interviews and 24 focus groups across the data collection methods, the researcher and article author's reports their top preferences:
The in-person mode of communication is the top choice for both interviews and focus groups
Online video-based modes is the second-choice method for interviewing
Using the message board mode of communication with asynchronous timing is the second-choice for focus groups
My take-away:
The study is timely and relevant to our current research reality as we are restricted in our ability to conduct in-person interviews and focus groups.
Over the past year, I have facilitated and participated in a number of online synchronous focus groups using platforms like Zoom and GoToMeeting. While some provided rich discussion, the logistical and technical challenges make me open to wanting a different method. Learning that my experience aligns with the researcher and author of this article is validating.
This year, I am hoping for an opportunity to try the asynchronous focus group using a message board method. I like that there is some anonymity which I think can support more authentic conversation. And I like that it eliminates some of the logistical challenges that come with in-person and synchronous online video focus groups. I agree that thinking about your target group's online habits is important. For example, in this case, the study participants were familiar with a message board mode of communicating as they were said to already be "gathering" online, posting questions and answers through social media.
Personally, I have found conducting interviews over the phone, a method not tested in this research study, to be comparable to in-person and online video. The loss of visual cues does make phone interviewing a little more challenging than the other two.
Finally, I agree with the author that there is no one "best" choice for collecting qualitative data and that "the optimal approach is the one that works to connect us with the people we want to talk to". This article reinforces for me the importance of mixed methods approaches and seeking to learn what will work best for the different audiences that we are trying to hear from, rather than making assumptions about what will work for whom.
Who should read it and why:
Anyone who conducts interviews and focus groups will find this a quick and useful read. At a minimum, you will get "at-your-fingertips" summary tables highlighting strengths, challenges and tips or tricks to mitigate the challenges for each of the 4 methods tested.
Source: Namey, E. "Can you see me now? My experiences testing different modes of qualitative data collection". R&E Search for Evidence. Posted Jan. 14, 2020. Accessed Jan. 5, 2021. https://researchforevidence.fhi360.org/can-you-see-me-now-my-experiences-testing-different-modes-of-qualitative-data-collection